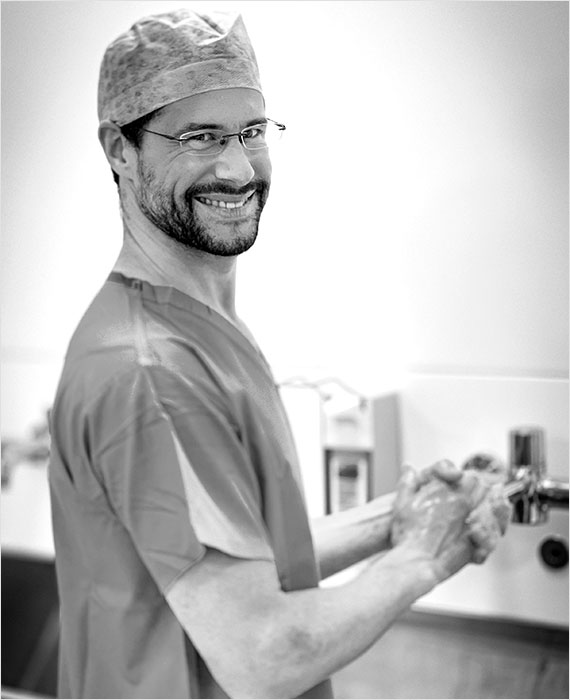 Mr David Gordon MBChB, MRCS, MD, FRCS (Tr & Orth) Consultant Orthopaedic Surgeon Specialising in keyhole / minimally invasive bunion surgery. Gold Medal Award Winner
Mr David Gordon is a Consultant Orthopaedic Surgeon, specialising in the treatment of foot and ankle conditions, with his main interest being minimally invasive bunion surgery, treating patients from all over the world. His practice is based in London and Hertfordshire, UK and has been practising orthopaedics since 1998.
Mr Gordon is a leading expert in bunions and keyhole bunion surgery. He has been performing minimally invasive bunion surgery since 2013, making him globally one of the most experienced surgeons in this technique. In 2021, he published a scientific paper of 292 bunion surgeries he performed, demonstrated his excellent results. This is now sighted as the landmark paper for the technique. He has performed over 2500 minimally invasive foot surgery procedures. Mr Gordon is invited around the world to lecture, teach and train in minimally invasive foot surgery.
He is also the inventor and patent holder of a medical device to solve arthritic foot pain.
With keyhole bunion surgery, he strives to create a perfect foot from patients who have a bunion. While this is not always possible, this strive for perfection means his patients receive the utmost care and attention, throughout their treatment.
Professional Background
Training
Mr David Gordon is a fellowship trained consultant orthopaedic surgeon, specialising in foot and ankle surgery, as well as trauma. He is on the UK General Medical Council Specialist Register (GMC no. 4527576). He was raised in London and qualified from Liverpool Medical School. His 6 years specialist training took place in London, including the famous Royal National Orthopaedic Hospital, Stanmore, where he also spent an additional 2 years undertaking research, being awarded a Higher Postgraduate Medical Doctorate (MD).
Gold Medal
In recognition for his work on developing revolutionary amputation prosthesis at the Royal National Orthopaedic Hospital, Mr Gordon was awarded one of the highest accolades in British Orthopaedics, the prestigious Robert Jones Gold Medal and British Orthopaedic Association Prize.
Fellowships
Mr Gordon was selected to undertake 2 sought after fellowships with world leading surgeons in Sydney, Australia. He spent a year learning state of the art techniques and developing his skills in foot and ankle sports and complex reconstructive surgery and sports knee surgery. Upon his return, he underwent a trauma fellowship at The Royal London Hospital Trauma Centre, treating the most complex, severely injured patients.
Qualifications and Degrees
MB ChB – Liverpool University Medical School (Distinction Cell Biology), 1998
MRCS – Member of the Royal College of Surgeons of Edinburgh
MD – Higher Postgraduate Medical Doctorate – University College London
FRCS (Trauma and Orthopaedics) – Royal College of Surgeons
CCST – Certificate of Completion of Specialist Training in Trauma and Orthopaedics
General Medical Council (GMC UK) Specialist Register in Trauma and Orthopaedics
Clinical Interests
Mr Gordon is passionate about bunions! He believes patients deserve the most advanced techniques available to ensure they recover quickly and have long lasting, pain free feet. There is no better reward than seeing a happy patient.
As well as bunions, Mr Gordon treats the full range of foot and ankle conditions using keyhole techniques. In addition, he also treats the full compliment of foot and ankle conditions:
Foot & Ankle Conditions
Cartilage, tendon and ligament sports injuries (including arthroscopic management)
Foot and ankle arthritis (including toe and ankle replacements and arthroscopic management)
Hallux valgus (bunion) and toe deformity corrections
Morton's Neuroma
Sprains, fractures and breaks
Trauma
Foot and ankle sprains, fractures and breaks
Achilles Ruptures and Reconstruction
Academic and Research Interests
Mr Gordon is committed to advancing the future of orthopaedic surgery by investigating both established and new technologies and techniques. He held a position at University College London (UCL). His interests include minimally invasive surgery for hallux valgus (bunions) and patient satisfaction. He has published his research extensively in international journals and has written book chapters in major orthopaedic textbooks. He has presented his research globally, winning prizes for his work and has been invited to lecture as guest speaker. He continues to be involved in post graduate teaching and training. Read More
Professional Memberships
British Orthopaedic Foot and Ankle Society
British Orthopaedic Association
Fellow of Royal College of Surgeons
Personal Background
Mr Gordon lives in Hertfordshire with his wife, 3 children, their dog, and 2 cats. He is an avid cyclist and escapes to the countryside roads or trails most weekend mornings, come rain or shine. As an ex University player, Mr Gordon enjoys watching rugby and having hand built a Westfield sports car, he follows Formula 1. His perfect holiday is skiing with the family.
Please visit Mr. Gordon's personal website for more information www.davidgordonortho.co.uk