Latest News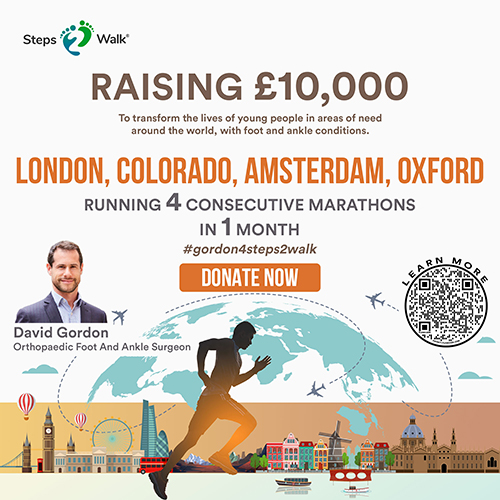 The Bunion Doctor's 2022 Marathon Challenge!
4 MARATHONS, 3 COUNTRIES, 2 FEET, 1 MONTH!
Mr David Gordon will be running 4 consecutive marathons this October to raise £10,000 for humanitarian orthopaedic foot and ankle charity, Steps2Walk
TCS London Marathon, UK (2nd)
Boulderthon, Colorado, USA (9th)
TCS Amsterdam Marathon, Netherlands (16th)
The Abingdon Marathon, Oxfordshire, UK (23rd)
Please support him and this wonderful charity by donating as generously as you can. Thank you!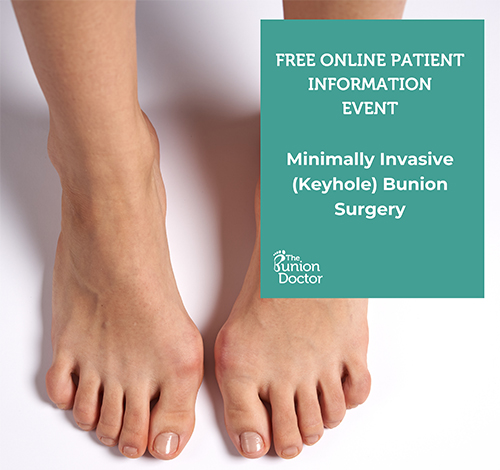 Patient Information Event with Mr David Gordon – Monday 9th January, 7.30 PM
Do you suffer from bunions? Would you like to know more about keyhole bunion surgery?
Join our next free online patient information event during which Mr David Gordon, The Bunion Doctor will be providing information and expert advice on bunions and treatment options, including the minimally invasive (keyhole) approach to bunion surgery he specialises in.
This one-hour webinar via Zoom will consist of a 30-minute presentation by Mr Gordon, followed by a Q&A session.
Announcing the largest series of 2-year patient outcomes on keyhole bunion operations
Mr David Gordon, The Bunion Doctor, is delighted to announce that his personal series of 2-year patient outcomes, following 292 minimally invasive bunion corrections, has recently been published by The Journal of Bone & Joint Surgery (JBJS), the biggest Orthopaedic Journal in the world.
This is also the largest series of its kind in the world, and follows many hundreds of hours during Lockdown 1.0 crunching data, analysing statistics, reviewing published evidence and writing with his research team.
The paper has been published and available here