Quite often I see patients who either think they have bunion or their family doctor does - but it actually isn't.
A bump around the big toe area is often assumed to be a bunion but it can be a growth of bone spurs related to an arthritic process, rather than a bunion. 'Hallux rigidus' or big toe joint arthritis is a painful condition, especially when pushing off from the toe, during walking or a lunge activity.
When the joint is completely worn out, there are two treatment options –a fusion or a joint replacement.
A fusion stiffens the big toe joint so it never moves again. This operation can be carried out using a keyhole (minimally invasive) technique. Many patients hesitate at the thought of a fusion, as they perceive they won't be able to do physical activity including exercise and walking, in the same way. In fact, they will be able to do these things, without a limp and so the fusion can be a very successful option.
A second option is a joint replacement. This is good option to relieve arthritic pain and preserve motion, and ideal for those who may want to wear a heeled shoe, which may be more challenging with a fused toe.Whilst symptoms may return, a joint replacement generally has a long lifespan. For this surgery, I use a silicone (Silastic) joint replacement as can be seen from the x-ray and image below, whereby the silicone joint is placed in the space indicated by the red arrows.
The recovery from a join replacement is relatively quick with patients getting into a normal shoe and back on their feet on average one week post-surgery. The arthritis and all the bone spurs are removed during the surgery, allowing for a pain-free result and flexibility maintained.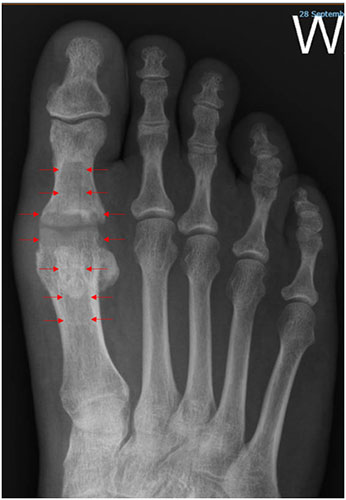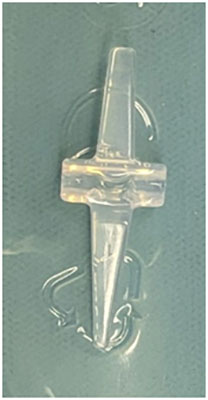 If you're suffering with a bunion, or what you think might be one, I would be happy to see you for a consultation. Please contact my office on 020 7993 2373 or email info@thebuniondoctor.com to book an appointment.
We also run regular Bunion Patient Information Webinars. Find out more and book your place here .