Will my bunions come back after surgery? A question I am often asked!
One of the many reasons I carry out keyhole bunion corrections rather than traditional open 'scarf' surgery is due to the potential reduced bunion recurrence rates with a minimally-invasive technique.
Recurrence rates for bunion surgery have been reported as high as 16%. However, at 2 years post-surgery, my personal patient reported recurrence rate for the keyhole bunion surgery I perform, was 0.9%. So about 1 in 100 patients have their bunion return after 2 years. Whilst this percentage may increase over time, I have confidence that this is unlikely because of the power of correction possible when performing keyhole bunion surgery.
There are different technical reasons for this, one of which is that keyhole bunion surgery locks out the joint where the bunion originates from - the 1st Tarsometatarsal (TMT) - so it cannot move any further (purple circle on x-ray image below).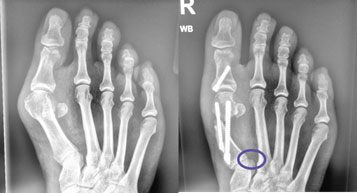 As a bunion deformity is actually caused by an unstable 1st TMT joint, not addressing this at the time of a bunion correction does not make sense. Keyhole bunion surgery 'maxes out' the joint, so it cannot move and therefore, reduces the risk of recurrence at this point. By contrast, open bunion surgery does not usually addresses this aspect and continued movement of this joint over time may mean the bunion will return.
Are you considering surgery for a bunion? Please contact us for any further questions or to book an initial consultation - I would be happy to see you.